2023
Beyond the Mine: Lawrence Norris- Senior Warehouse Technician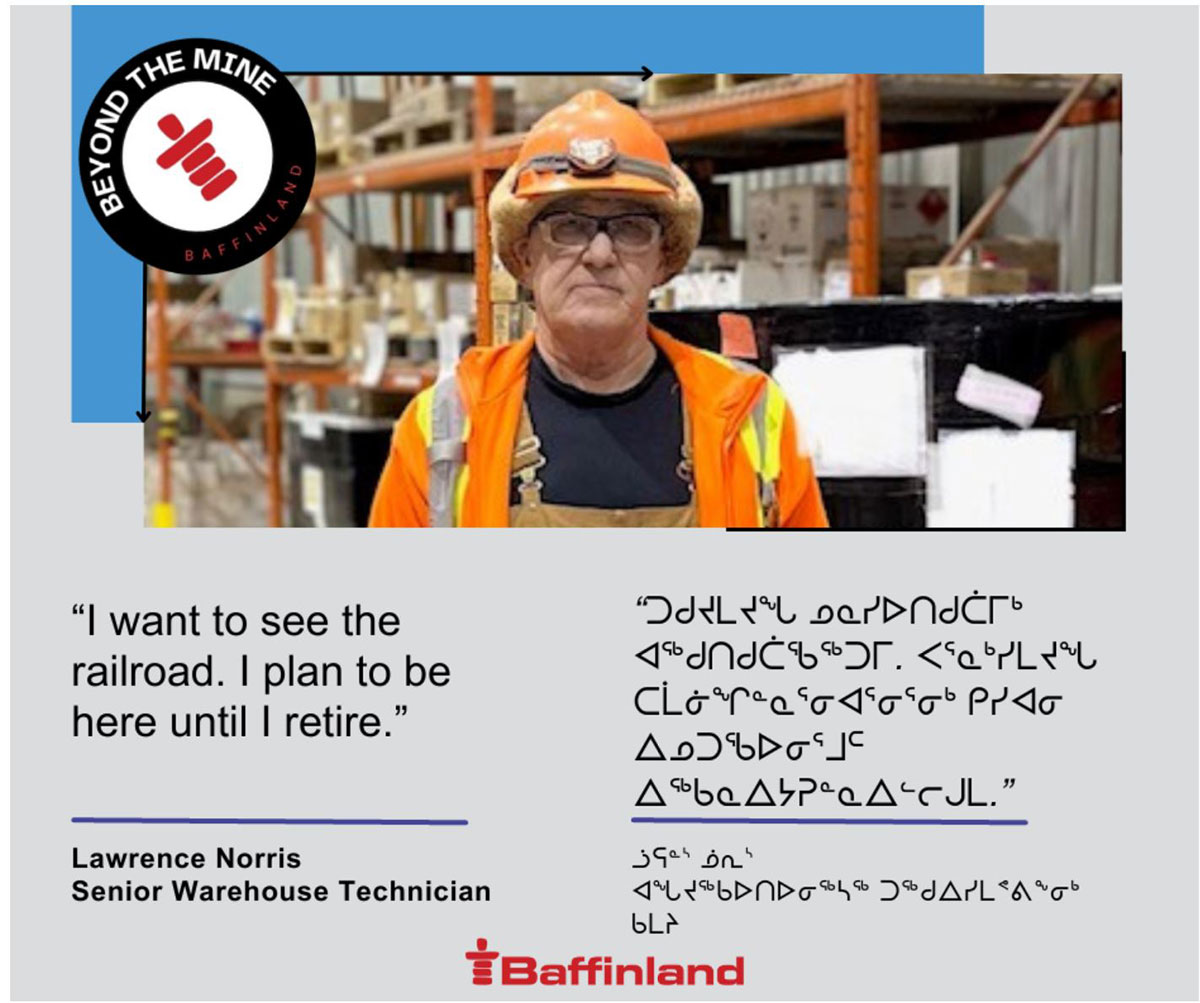 Senior Warehouse Technician Lawrence Norris was a ship's cook for 25 years, but he left that career behind when he first heard about Baffinland, while working as a chef on the Sealift. He applied for a job, was hired, and hasn't looked back. When asked why he wanted to work at the mine, Lawrence said, "There's a mountain of ore up here! I'll never see the end of it."
Lawrence, from St. John's, Newfoundland, started working at site as a Camp Coordinator. This was in the early days of exploration, in 2006, when he says, "It was really just a couple of tents." When the mine went into production in 2013, he made the move to the Warehouse.
As Senior Warehouse Tech, Lawrence and his team take care of everything that comes in and goes out of site, with all cargo from ships and planes going through the warehouse. He says it's a challenging job, but he loves it.
Lawrence says he appreciates how Baffinland is helping the communities. He also likes the stability of having a long-term job. "I want to see the railroad," he says. "I plan to be here until I retire."
Lawrence's story is part of our new series, Beyond the Mine,' which puts the spotlight on the diverse range of non-traditional mining jobs that support our operations, as well as the people who do them, and the career paths that have brought them here. If you're interested in working with us, visit our website for current job listings https://careers.baffinland.com/
ᓘᕋᓐᔅ ᓅᕆᔅ - ᐊᖓᔪᖅᑲᐅᑎᐅᓂᖅᓴᖅ ᑐᖅᑯᐃᓯᒪᕝᕕᖕᓂᒃ ᑲᒪᔨ
ᐊᖏᔪᖅᑲᐅᑎᐅᓂᖅᓴᖅ ᑐᖅᑯᐃᓯᒪᕝᕕᖕᓂ ᑲᒪᔨ ᓘᕋᓐᔅ ᓅᕆᔅ ᐅᒥᐊᕐᔪᐊᒥ ᓂᖅᖠᐅᖅᑎᐅᓚᐅᖅᑐᖅ ᐊᕐᕌᒍᓄᑦ 25-ᓄᑦ, ᑭᓯᐊᓂᓕ ᐃᖅᑲᓇᐃᔭᕐᕕᒋᔪᓐᓃᓚᐅᖅᑕᖓ ᑐᓴᕆᐅᕋᒥ ᐹᕙᓐᓛᓐᑯᓐᓂᒃ, ᓂᖅᖠᐅᖅᑎᐅᓪᓗᒍ ᐅᒥᐊᕐᔪᐊᒥ. ᐱᓇᔪᓕᓚᐅᖅᑐᖅ ᐃᖅᑲᓇᐃᔮᒧᑦ, ᐃᖅᑲᓇᐃᔭᓕᖅᑎᑕᐅᓪᓗᓂᓄ, ᐊᒻᒪᓗ ᑭᖑᒻᒧᑦ ᕿᕕᐊᒃᑲᓐᓂᓚᐅᖅᓯᒪᔪᓐᓃᖅᖢᓂ. ᐊᐱᒋᔭᐅᓚᐅᖅᑎᓪᓗᒍ ᖃᓄᐃᒻᒪ ᐃᖅᑲᓇᐃᔭᕈᒪᓐᓂᖔᑦ ᐅᔭᕋᖕᓂᐊᕐᕕᖕᒥ, ᓘᕋᓐᔅ ᐅᖃᓚᐅᖅᑐᖅ, "ᖃᖅᑲᖅᑕᖅᑐᖅ ᓴᕕᒃᓴᒥᒃ ᑕᐅᕙᓂ! ᑕᑯᓚᐅᖅᓯᒪᔾᔮᖏᑦᑕᕋ ᐃᓱᐊ."
ᓘᕋᓐᔅ, ᓴᐃᑦ ᔮᓐ, ᓂᐅᕙᓐᓛᓐᒥᐅᑕᖅ, ᐃᖅᑲᓇᐃᔭᓕᓚᐅᖅᑐᖅ ᐅᔭᕋᖕᓂᐊᕐᕕᖕᒥ ᓇᔪᒐᕐᒥ ᑲᒪᔨᐅᓪᓗᓂ. ᑖᓐᓇ ᐱᓕᒋᐊᓕᓵᖅᑎᓪᓗᒋᑦ ᕿᓇᔪᖕᓂᕐᒥᒃ, 2006-ᒥ, ᐅᖃᕌᖓᑦ, "ᐅᓄᖏᓐᓚᕆᓚᐅᖅᑐᑦ ᑐᐲᑦ". ᐅᔭᕋᖕᓂᐊᕐᕕᒃ ᐅᔭᕋᖕᓂᐊᓕᖅᑎᓪᓗᒍ 2013-ᒥ, ᓅᓚᐅᖅᑐᑦ ᑐᖅᑯᐃᓯᒪᕝᕕᓕᕆᓂᕐᒧᑦ.
ᐊᖏᔪᖅᑲᐅᑎᐅᓂᖅᓴᐅᓪᓗᓂ ᑐᖅᑯᐃᓯᒪᕝᕕᖕᓂ ᑲᒪᔨᐅᑎᓪᓗᒍ, ᓘᕋᓐᔅ ᐊᒻᒪᓗ ᐱᓕᕆᖃᑎᖏᑦ ᑲᒪᒋᔭᖃᖅᐸᒃᑐᑦ ᑕᒪᐃᓐᓄ ᑎᑭᑦᑐᓂᒃ ᐊᐅᓪᓚᖅᑐᓕᒫᓂᒡᓗ ᐅᔭᕋᖕᓂᐊᕐᕕᖕᒥ, ᐊᐅᓪᓚᖅᑐᒃᓴᓗᒃᑖᑦ ᐅᒥᐊᕐᔪᐊᓂᑦ ᖃᖓᑕᓲᒃᑯᓪᓗ ᑐᖅᑯᐃᓯᒪᕝᕕᒃᑰᖏᓐᓇᐅᔭᖅᑐᑦ. ᐅᖃᖅᑐᖅ ᐊᔪᕐᓇᕈᑎᖃᐅᖃᑦᑕᕐᓂᖓᓄᑦ ᐃᖅᑲᓇᐃᔮᖅ, ᑭᓯᐊᓂᓕ ᐊᓕᐊᓇᐃᒋᑦᑎᐊᖅᑕᖓ.
ᓘᕋᓐᔅ ᐅᖃᖅᑐᖅ ᖁᔭᓕᓯᒪᔪᖅ ᐹᕙᓐᓛᓐᑯᑦ ᐃᑲᔪᕐᓂᖏᓐᓂᒃ ᓄᓇᓕᖕᓂᒃ. ᓈᒻᒪᒋᔭᖓ ᓱᕐᕌᖏᑦᑐᒥᒃ ᐊᑯᓂᐅᔪᒃᑯᑦ ᐃᖅᑲᓇᐃᔮᖃᕐᓂᖓᓂᒃ. "ᑐᑯᔪᒪᔪᖓ ᓄᓇᓯᐅᑎᑯᑖᒥᒃ ᐊᖅᑯᑎᑯᑖᖃᖅᑐᒥ," ᐅᖃᖅᖢᓂᓗ "ᐸᕐᓇᒃᓯᒪᔪᖓ ᑕᒫᓃᖏᓐᓇᕐᓂᐊᕐᓂᕐᓂᒃ ᑭᓯᐊᓂ ᐃᓄᑐᖃᐅᓂᕐᒧᑦ ᐃᖅᑲᓇᐃᔭᕈᓐᓇᐃᓪᓕᒍᒪ."
ᓘᕋᓐᔅ ᐅᓂᒃᑳᖓ ᐃᓚᒋᔭᐅᔪᖅ ᖁᕕᐊᓇᖅᑐᓄᑦ ᓄᑖᓄᑦ ᐃᓄᓕᕆᔾᔪᑎᓄᑦ ᖃᕆᓴᐅᔭᒃᑯᑦ ᐃᑭᐊᖅᑭᕕᒃᑯᑦ ᑐᕌᒐᕆᔭᐅᔪᓄᑦ, 'ᐅᔭᕋᖕᓂᐊᕐᕕᐅᑉ ᐅᖓᑖᓄᑦ'. ᓴᖅᑎᔮᖅᑎᑦᑎᓂᖅ ᓴᖅᑭᑎᑦᑎᓯᒪᔪᖅ ᐊᔾᔨᒌᙱᕈᓘᔭᖅᑐᓂᒃ ᐱᖅᑯᓯᐅᒐᔪᖏᑦᑐᓂᒃ ᐅᔭᕋᖕᓂᐊᕐᕕᖕᒥ ᐃᖅᑲᓇᐃᔮᓂᒃ ᐃᑲᔪᖅᓱᐃᔪᑦ ᐊᐅᓚᓂᑦᑎᓐᓂᒃ, ᐃᓄᐃᑦ ᐱᓕᕆᕙᒃᑕᖏᓐᓂᓪᓗᑦᑕᐅᖅ, ᐊᒻᒪᓗ ᐃᓅᓯᒫᖅ ᐃᖅᑲᓇᐃᔮᖑᔪᓐᓇᖅᑐᓄᑦ ᐊᖅᑯᑕᐅᕙᒃᑐᑦ ᑎᑭᑎᑦᑎᓯᒪᔪᖅ ᑕᕝᕗᙵ. ᐃᖅᑲᓇᐃᔭᕐᕕᒋᔪᒥᒋᒍᑦᑎᒍᑦ, ᖃᕆᓴᐅᔭᒃᑯᑦ ᐃᑭᐊᖅᑭᕕᕗᑦ ᑕᑯᒋᐊᕐᓗᒋᑦ ᒫᓐᓇᐅᔪᖅ ᐃᖅᑲᓇᐃᔮᒃᓴᑦ ᑎᑎᖃᖅᓯᒪᔪᑦ https://careers.baffinland.com/.