Baffinland Iron Mines Corporation hosts the Qikiqtaaluk Socio-Economic Monitoring Committee (QSEMC) at Mary River
May 16, 2019
MARY RIVER, NUNAVUT– May 16, 2019
Baffinland Iron Mines Corporation (Baffinland) and the Qikiqtaaluk Socio-Economic Monitoring Committee (QSEMC) successfully concluded a site visit on May 14, 2019 at the Mary River Mine on Northern Baffin Island. Socio-Economic Monitoring Committees were established in Nunavut to engage communities and other stakeholders in monitoring efforts related to major development projects. These committees also help ensure these projects comply with their permits and other commitments by meeting their socio-economic monitoring requirements. The purpose of this visit was to share information about Baffinland's operation, Inuit human resource practices and policies, and training programs. This visit was timed to coincide with the annual in-person meeting of the QSEMC which is taking place in Iqaluit May 15-16. QSEMC membership includes Qikiqtaaluk Region community representatives, federal and territorial government representatives, and resource developers such as Baffinland.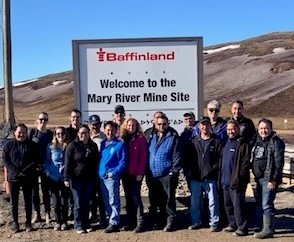 During the site visit, QSEMC members were provided the opportunity to interact with Baffinland staff, tour site facilities, and learn more about the Company's operations and approach to the phased development of the mine.
Baffinland would like to thank all participants for taking the time to visit Mary River and sharing their valuable feedback.
About Baffinland Baffinland is a Canadian mining company led by an experienced management team who have amassed specialty experience on northern mining projects through all phases of consultation, permitting, construction, and operation. Baffinland is committed to operating the Mary River Mine in an environmentally and socially responsible manner that benefits all stakeholders.
Media inquiries can be directed to:
contact@baffinland.com
Baffinland Iron Mines Corporation
Phone: (416) 364-8820
Cell: (416) 529-2624