Baffinland and the Qikiqtani Inuit Association Sign Amended Mary River Project Inuit Impact Benefit Agreement
October 3, 2018
October 3, 2018 – Baffinland Iron Mines Corporation (Baffinland or the Company) and the Qikiqtani Inuit Association today signed the Amended Mary River Project Inuit Impact Benefit Agreement (IIBA or the Agreement), strengthening the Company's commitments to the Qikiqtani communities. The Amended Agreement supersedes the original Mary River IIBA, originally signed in September 2013, and comes into force upon final signature.
Baffinland and QIA have jointly committed to increasing the benefits of the Mary River Mine to Nunavummiut by enhancing the focus on Inuit training and employment. This will be done through:
Increased skills and training opportunities to provide Nunavummiut with the skills they need to gain meaningful employment at the Mary River Mine including:

Increased financial commitments to training and skills development
Development of a state of the art training facility in Pond Inlet
Implementation of enhanced pre-employment training opportunities to prepare Inuit for employment at the mine

Programs designed to specifically increase Inuit employment in all aspects of Baffinland's organization
Improved support for all residents of the Qikiqtani communities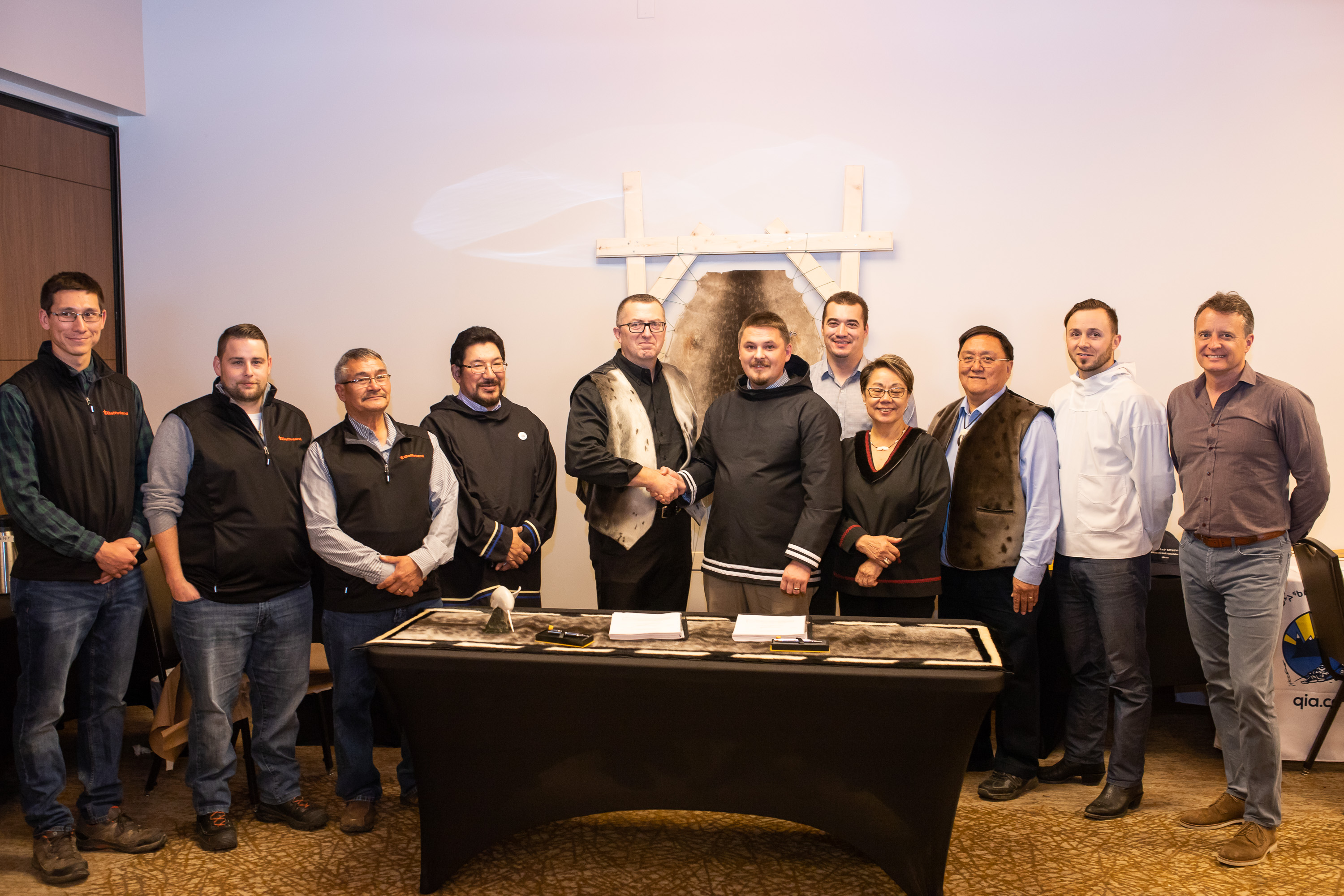 Photo caption: Baffinland Iron Mines Corporation President and CEO Brian Penney (center left) is pictured with P.J. Akeeagok, President of the Qikiqtani Inuit Association, following the signing of the Amended Mary River Project Inuit Impact Benefit Agreement. The Amended Agreement includes new programs and commitments to maximize Inuit involvement at the Mary River Mine.
"The signing of the Amended IIBA represents another major step in our commitment to deliver on our promise to bring employment and training opportunities to the Qikiqtani region," said Brian Penney, Baffinland president and CEO. "It also reflects the strong relationship between Baffinland and QIA, as we continue to find new ways to work in partnership and understand how we can continue to move forward and make a real difference for all Nunavummiut."
The Amended Agreement is based on mutual benefit for both Baffinland and Inuit. This Agreement ensures the positive benefits of the Mine accrue directly to Inuit.
About Baffinland Iron Mines Corporation
Jointly owned by Nunavut Iron Ore and ArcelorMittal, Baffinland Iron Mines Corporation operates a high-grade iron ore mine located on Baffin Island, Nunavut. Our mine produces the highest grade of direct shipping iron ore in the world. Baffinland is committed to operating the Mary River Mine in an environmentally and socially responsible manner that benefits all stakeholders. For further information about the Company please visit www.baffinland.com.
Media inquiries can be directed to:
Andrew Moore
Manager, Inuit, Government, and Stakeholder Relations
Andrew.Moore@Baffinland.com
416 364-8820 extension 5094