Baffinland and QIA introduce heavy equipment training through Q-STEP
February 13, 2018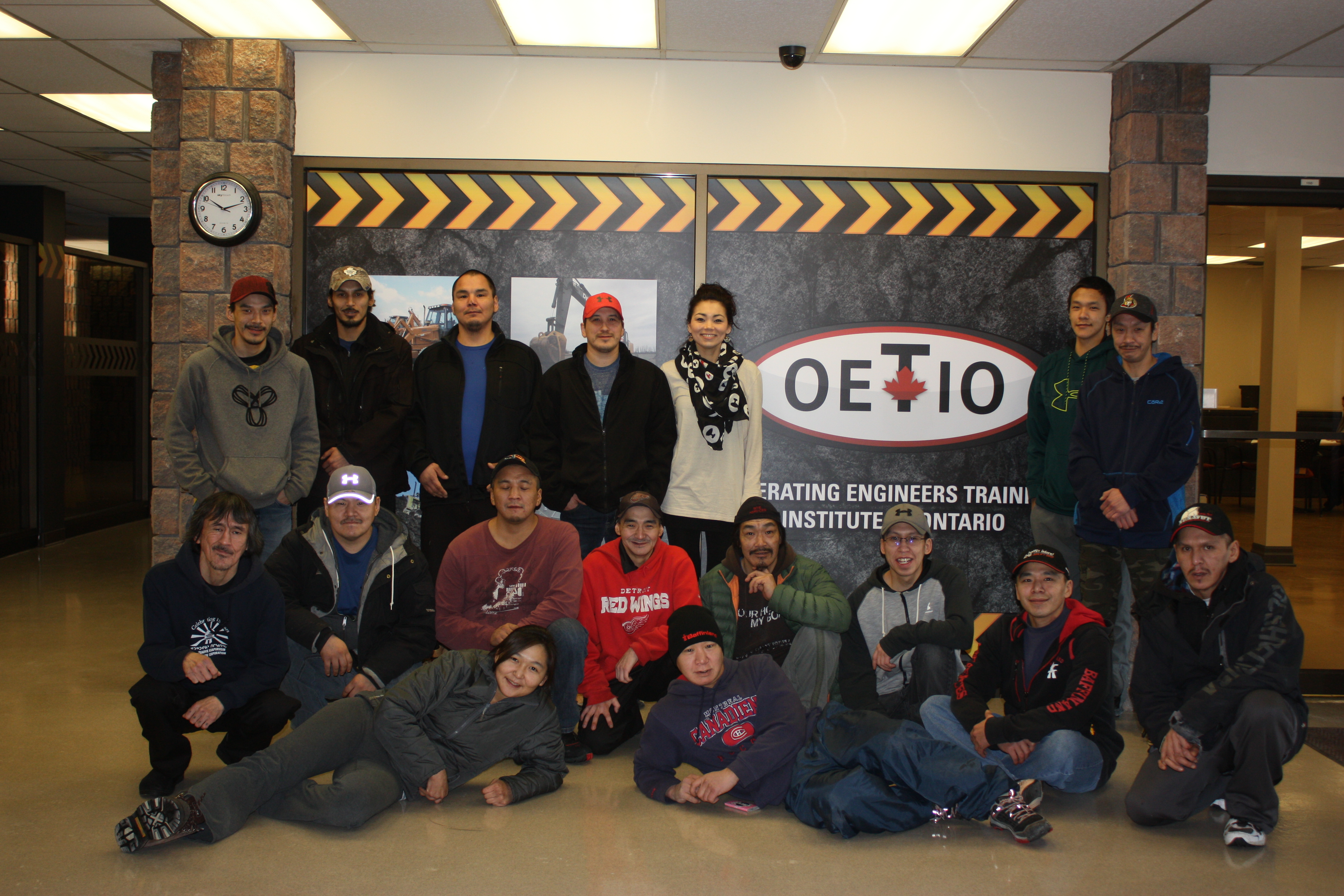 The new trainees pose for a photo upon arriving at the Operating Engineers Training Institute of Ontario facility in Morrisburg, Ontario
Iqaluit, Nunavut- February 13, 2018 – Baffinland Iron Mines (Baffinland) in partnership with the Qikiqtani Inuit Association (QIA) launched the Qikiqtani Skills and Training for Employment Partnership (Q-STEP) program in November 2017. As part of the program, Baffinland, in partnership with QIA is pleased to announce that fifteen Inuit from the Q-STEP have begun heavy equipment operator training at the Operating Engineers Training Institute of Ontario (OETIO) in Morrisburg, while another eight trainees are expected to start in February.
The six-week program is designed to give Inuit the skills they need to be heavy equipment operators with Baffinland at its Mary River Mine. The program includes classroom instruction, laboratory activities and provides students with hands-on experience operating heavy equipment used in mining. This includes excavators, haul trucks, graders, and more.
The first two weeks of the program are in the classroom, where students are taught the fundamentals of Occupational Health and Safety, maintenance, and safely securing the equipment for transportation. The next four weeks are in the field, providing hands on training for students under the supervision and instruction of certified, experienced instructors.
Baffinland is committed to hiring Inuit who are interested in working at the Mary River Mine. As part of that commitment, following completion of the training program, trainees will become full-time heavy equipment operators with Baffinland and will receive additional training by Baffinland at the Mary River Mine.
This training program is one of the initiatives introduced as part of Q-STEP. Additional recruitment efforts for the Q-STEP program will be undertaken with Tuttarvik, the Inuit Labour Pool database.
QIA will be visiting all 13 communities in the Qikiqtani region in 2018 to enroll participants into the Inuit Labour Pool database (Tuttarvik) which will promote training opportunities such as the Q-STEP program, and assist employers in identifying Inuit candidates for jobs or training opportunities.
For information on how to register with Tuttarvik, please contact QIA via at Tuttarvik@QIA.CA
Qikiqtani Skills and Training for Employment Partnership (Q-STEP) is funded in part by the Government of Canada's Skills and Partnership Fund.
About Baffinland Iron Mines Corporation
Jointly owned by Nunavut Iron Ore and ArcelorMittal, Baffinland Iron Mines Corporation operates a high-grade iron ore mine located on Baffin Island, Nunavut. Our mine produces the highest grade of direct shipping iron ore in the world. Baffinland has applied for permits to increase annual shipments to 12 million tonnes. Baffinland is committed to operating the Mary River Mine in an environmentally and socially responsible manner that benefits all stakeholders.
Baffinland media inquiries can be directed to:
Jason Leite
Communications Specialist
Jason.leite@baffinland.com
Phone: (416) 364-8820 ext. 5032
Cell: (416) 529-2624
About the Qikiqtani Inuit Association
The Qikiqtani Inuit Association (QIA) is a not-for-profit society which represents approximately 14,000 Inuit in the Qikiqtani (Baffin) Region of Nunavut, including 13 communities from Grise Fiord in the High Arctic to Sanikiluaq (Belcher Islands) in the southeast of Hudson Bay. QIA's mission is to safeguard, administer and advance the rights and benefits of the Qikiqtani Inuit; and to promote Inuktitut and Inuit traditions, environmental values, self-sufficiency, and economic, social and cultural well-being in an open and democratic forum. Under Article 39 of the Nunavut Land Claims Agreement, QIA is considered a Designated Inuit Organization (DIO) responsible for managing Inuit Owned Lands in the Qikiqtani Region.
QIA media inquiries directed to:
Sima Sahar Zerehi,
Director of Communications,
Qikiqtani Inuit Association
Email: szerehi@qia.ca
Ph: (867) 975.8413
Ph: 1.800.667.2742