Residents in Igloolik Awarded for their Dedication in Helping Others
May 23, 2015
On May 6, 2015 in Igloolik on Baffin Island, the Commissioner of Nunavut, Edna Elias, recognized a number of good Samaritans for their dedication and voluntary contributions towards their community.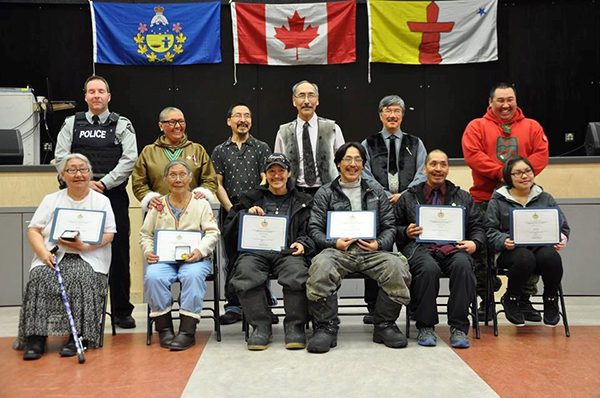 From time to time Baffinland's Community Liaison Officers (BCLOs) wish to share stories that, while unrelated to the Mary River Project, shine a spotlight on their own communities. Such is the case with this story which comes from our Igloolik BCLO, Renee Qulaut, about extra efforts made by a few members from neighbouring communities.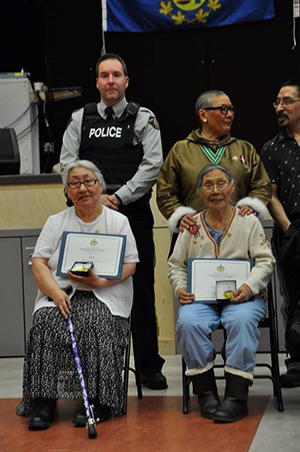 The Commissioner of Nunavut, Edna Elias, awarded Elders Marie Airut and Leonie Qrunngnut of Igloolik (left) for their commitment towards being respected community role models; as they are the first point of contact in the community when someone passes away, and both are always the first to pay a visit to a bereaved family and offer their support.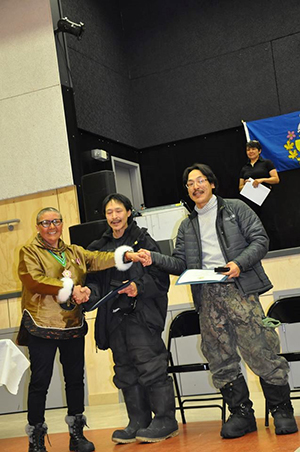 The race was established in 1999 shortly after Nunavut became a territory and celebrates the Inuit traditional way of life when they used to travel by dog sled teams. During rest stops mushers connect with each other by sharing stories, and pointing out places of childhood or spiritual significance. When camp is made for the night healing ceremonies are often held and, when the race concludes, the mushers often share training and feeding techniques for their dogs.

Simon Amaaq was also recognized by the Commissioner for his bravery when he saved the life of Panuelie Atagutalukutuk who fell through thin ice in to the freezing waters at the floe edge. Panuelie fought with the current before Simon approached on to the thin ice himself and pulled him to safe ground.
Aime Panimera, a radio show host for a decade, was the final person to be recognized that night. He diligently hosted his show every Saturday from 6 am to 9 am and was awarded for inspiring audiences of all ages to wake up early and tune in to his captivating retelling of elders' stories.