Baffinland Presents Awards to the Pisiksik Working Group in Pond Inlet
November 7, 2014
On October 29, 2014 Baffinland held a celebration in Pond Inlet to acknowledge the participation by members of the community in the Mary River Project Inuit Knowledge Study, 2006-2009. This study, which included contributions by elders of *Inuit Qaujimanituqangit, workshops on topics like caribou and land use, and visits to North Baffin communities and to the project site, helped to inform the environmental assessment for the Mary River project.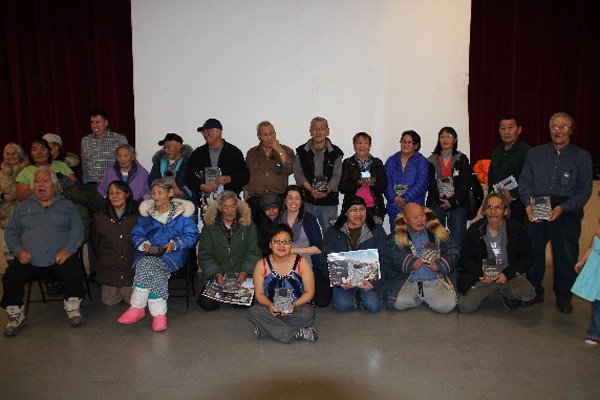 Working Group Members, Interviewed Elders, and Trained Interviewers and Translators Recognized for their Contribution to the Mary River Project Inuit Knowledge Study
Participants, including working group members, interviewers, translators, and coordinators, were presented with plaques adorned with polished iron ore directly from the Mary River deposit and a mapbook, which included much of the geographical knowledge shared with the group and the Company.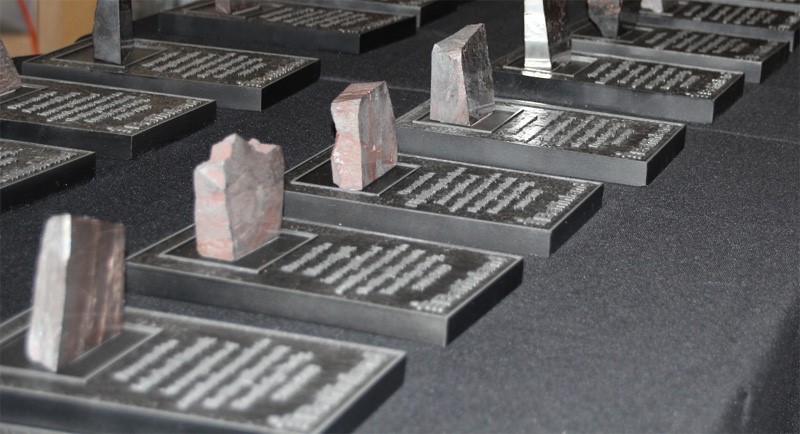 Richard Cook of Knight Piesold, the original coordinator for the study, was on hand with working group members to present the awards and give thanks for the work done by the community. After the ceremony, attendees feasted on sandwiches offerd by Baffinland from the Sauniq hotel, and country food provided by Pond Inlet Mayor Charlie Innuarak and the Mittimatalik Hunters and Trappers Organization.
Baffinland learned a great deal from the original working group, prior to the approval of the Mary River Project, and the Company intends to keep learning from the community, including Elders, youth, hunters, Hamlet workers, and others. In support of this, the Pisiksik working group has been recently been reestablished as a Community Advisory Group, with the aim of being a direct line of communication between the community and Baffinland as the project moves into operations.
"A key thing about the knowledge shared with us is that it was shared freely and transparently; we didn't sense any holding back. There was a genuine desire from the communities to contribute their knowledge in the hopes that it would help to better inform us about the potential effects of the project on caribou and other wildlife," said Erik Madsen, Vice President, Sustainable Development Health, Safety & Environment.
* Inuit Qaujimajatuqangit is an Inuktitut phrase that is generally translated as, and referred to as, "Inuit traditional knowledge". It is often abbreviated as "IQ".