Sept. 25. 2013. Baffinland Announces First Charter from Kitchener- Waterloo, Ontario to Mary River, Nunavut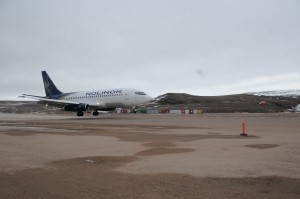 Oakville, ON (September 25, 2013) Baffinland Iron Mines Corporation is pleased to announce that the inaugural charter flight carrying employees and cargo from the airport at Kitchener-Waterloo, Ontario, to Baffinland's Mary River Project site in Nunavut occurred today. Carrying cargo and a maximum of 119 passengers, Boeing 737s will fly weekly to and from Nunavut with cargo and passengers. These scheduled flights are the outcome of a partnership between Sarvaq Logistics, an Inuit owned and staffed logistics company headquartered in Iqaluit, and Nolinor, a Quebec-based charter airline. The flights to Mary River will depart in the morning from the Kitchener-Waterloo airport and on their way to the Mary River site they will stop at Iqaluit, where Sarvaq Logistics will fully service and refuel the aircraft. "We're very excited about our alliance with Nolinor and believe this will help to grow and further diversify our company. As an Inuit-owned and operated business, with our management based here in Nunavut, we want to be a part of the developments that are occurring in our home territory." stated Adamee Itorcheak, owner of Sarvaq Logistics, who was recently awarded the air services contract. "The ability to move passengers and large volumes of cargo quickly and efficiently into the site is a big step for us. As well, for employees, the ability to return them as quickly as possible to their homes and families safely after two weeks working on site is very important." stated Michael Anderson, Vice President of Operations at Baffinland.

Mike Anderson, V.P. Operations, Baffinland with pilot and co-pilot of inaugural flight and Bikash Paul, Site Services Manager, Baffinland.
The Mary River Project has been undergoing extensive environmental impact assessment for the past 5 years, which culminated in a Nunavut Impact Review Board Project Certificate in December of 2012. The receipt of the Project Certificate paved the way for the Class A Water License process to be completed with the Nunavut Water Board in July 2013. On September 13, 2013, Baffinland announced a formal decision to proceed with approved construction activities associated with the Mary River Project. The construction decision was made possible as a result of the recently completed Inuit Impact Benefit Agreement (IIBA) and Commercial Production Lease (CPL), which were executed jointly with the Qikiqtani Inuit Association on September 6, 2013. In early 2013, Baffinland began mobilizing construction material, fuel, and equipment via sealift to facilitate construction activities. Along with mobilization efforts, extensive training and recruitment initiatives have been, and will be, undertaken by the company allowing for Inuit particularly from the North Baffin communities to participate in employment opportunities created by the Mary River Project. Further inquiries can be directed to: Greg Missal Vice President, Corporate Affairs Baffinland Iron Mines (416) 814-3164 www.baffinland.com