Nov.11.13. Helping Inuit become "work ready" for the Mary River mine
November 11, 2013
With construction at the Mary River mine site well underway, Baffinland (owned 50% by ArcelorMittal) is helping local potential employees to understand the nature of the challenges that individuals and families may face due to a fly-in/fly-out work schedule in the remote area of Baffin Island, where the iron ore deposits are located. The Work Ready Program, offered in the local language of Inuktitut, will help pave the way for successful, long-term employee engagement.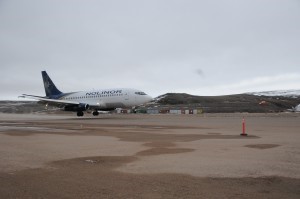 Baffinland mine operations crew prepares for shift Mary River, August 2014
Baffinland Iron Mines is committed to employing local Inuit at the Mary River Project, located in a very isolated area of Baffin Island. To facilitate this, a Work Ready Program was designed and launched by the company in 2012, in order to help the local population decide if the lifestyle of fly-in/fly-out work at a mine is suitable for them and for their families.
Knowledge beforehand and good preparation should help to improve the performance, productivity and retention of Inuit employees and contribute to their ongoing success at the Mary River Project during the construction and operations phases. As part of the agreement negotiated with the Qikiqtani Inuit Association, Baffinland's priority for hiring will be in the five closest North Baffin communities of Hall Beach, Igloolik, Arctic Bay, Pond Inlet and Clyde River.
For this reason, the Work Ready Program focuses on individuals from these five communities. All the facilitators involved in the program have training as counsellors and are experienced working with Inuit from the region. Work Ready is planned as an ongoing programme for North Baffin Inuit delivered directly in Inuktitut, which is seen as a critical component. And since many of the challenges and solutions for success in fly-in/fly-out work lie within the family, the Work Ready Program includes participation of spouses.
Making sure the lifestyle is a suitable fit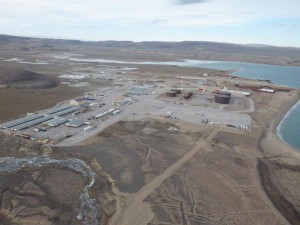 As Joe Tigullaraq, Baffinland's Senior Northern Affairs Manager, says in the video that accompanies the training, "At Baffinland, we want to educate as much as possible on the lifestyle that goes with working at our site, so that you can choose if the lifestyle is suitable for you."
Many of the challenges workers will have to face are personal and sensitive in nature, such as homesickness and isolation. The program does not skirt around such issues and is organised into four modules:
Preparing for fly-in / fly-out employment
Communication at work and at home
Money management and banking
Managing stress in the work place
"Work leads to income and opportunity, but it can also change the family dynamic, especially as it relates to money and responsibilities" says Murray Odesse, Baffinland's vice president, human resources. The changes and challenges arising from new employment and wealth can lead to new sources of stress. The final module of the program addresses how stress can be recognized and successfully managed in a healthy manner.
About the program
The Work Ready Program has been developed and delivered through a funding partnership made up of the following organisations:
Government of Nunavut Departments of Education; Family Services;
Economic Development and Transportation (through the Nunavut Mine Training Roundtable
Kakivak Association
Nunavut Arctic College
Hamlet of Pond Inlet
Government of Canada